The End of Chronic Pain™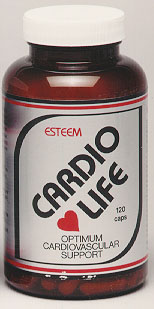 Cardio Life is one of Esteem Products' most personal products, developed in 1989 by company President John Sheaffer, shortly after recovering from his own emergency bypass surgery.

Cardio Life contains nutrients known to strengthen heart functions, lower cholesterol, return elasticity to cardiovascular tissue and combat the symptoms of stress.

Since the original formula was developed back in 1989, great advances have been made in the nutritional field. Therefore, in order to keep Cardio Life the best possible heart product on the market, we made a "New and Improved" Cardio Life just a few years ago. Doctor Marcus Laux, N.D. had some wonderful suggestions, and with extensive research, seven new, optimal nutrients for heart health were added - plus four of the main ingredients were doubled in potency! The result. . . a great product made even better!

Stress is a major factor in the manufacture and release of excess cholesterol by the body. Many doctors contend that a person with high levels of cholesterol who eats a high-fat diet has an increased risk of heart disease. Cholesterol is carried by the blood and forms deposits on the arterial walls of the heart. These deposits gradually restrict blood flow until a heart attack occurs.

Many factors contribute to heart disease: lack of exercise, poor diet, tobacco smoking and genetic makeup. We cannot change our genetics, but we can make the best of our heredity by improving what we can. Good heart health and cardiovascular conditioning can be enhanced with the use of nutritional supplementation. Anyone with a family history of heart disease, angina, weak hearts, or those who have suffered painful bypass surgery or angioplasty repair should consider taking Cardio Life. It is not a quick fix, but rather an alternative, in many ways, to heavy prescription drug usage. If you have a heart problem or a potential for one, Cardio Life is for you. Don't wait until a heart attack strikes you down! The ingredients in Cardio Life can truly make a difference in your heart health. It's not a miracle, but it appears to be the closest thing to one. Ask for it today at your local Health Food Store! Cardio Life is not a multiple vitamin, therefore it is recommended that Esteem Super Life, Total Man or Total Woman be taken during the day.

Suggested use is 1-3 capsules, plus 1000 MG vitamin C with each meal.

Suggested Retail Prices: 120 caps. - $34.95 or 60 caps. - $21.95

Click to order now!

--------------------------------------------------------------------------------

4 capsules of Cardio Life contain:

CO Q 10 25 MG
Plays a crucial role in the energy production of every cell of the body. It aids circulation, stimulates the immune system, increases tissue oxygenation, and has vital anti-aging effects.

GTF CHROMIUM (Chromate) 200 mcg
Needed for energy. Data supports evidence showing that chromium supplements can have a positive effect on serum lipids, lowering cholesterol levels.

HAWTHORNE (berries) 250 MG
Strengthens the heart muscle and blood vessels. Increases flow of blood and oxygen to the heart. Helps lower blood pressure reducing work required to pump blood through the body.

CHONDROITIN SULFATES 200 MG
Important in maintaining elasticity and integrity of body tissues.

SIBERIAN GINSENG (50X 500 MG
Useful in alleviating stress. Shown to aid in resisting hypertension and angina.

L-CARNITINE 50 MG
This amino acid aids in weight loss and reduces risk of heart disease by preventing fatty build-up.

L-PROLINE 200 MG
Heals cartilage, strengthens the heart muscle, joints and tendons.

L-LYSINE 200 MG
Helps repair tissue and lower high serum triglycerides.

L-SELENOMETHIONINE 75 mcg
An anti-oxidant that protects the immune system and is needed for pancreatic function and tissue elasticity.

MAGNESIUM (citrate) 200 MG
Key substance in proper functioning of nerves and muscles. Anti-stress mineral.

POTASSIUM (citrate) 75 MG
Essential for muscles, nerves and the heart.

PYRIDOXINE (HCL) 50 MG
Helps in normal functioning of the nervous system and utilization of fats and proteins.

*NIACIN (B3) 100 MG
Lowers cholesterol and improves circulation and is also a memory enhancer. It also aids in the functioning of the nervous system.

PANTOTHENIC ACID (ca ponto) 100 MG
Aids resistance to stress.

COBALAMIN (B12) 300 mcg
Aids in cell formation and cellular longevity and prevents nerve damage.

FOLIC ACID 1000 MG
Needed for the formation of red blood cells and energy production.

GARLIC 150 MG
Helps lower blood pressure and cholesterol levels.

OAT BRAN 200 MG
Helps balance and reduce cholesterol levels.

OMEGA 3 (fish oil) 125 MG
Lowers levels of cholesterol and triglycerides.

BETA SITOSTEROL 150 MG
Help to lower cholesterol.

STIGMASTEROL/CAMPESTEROL 65 MG
Help to lower cholesterol.

HOPS 50 MG
Good for nervousness, stress and pain.

RUSCUS ACULEATUS (butcher's broom) 150 MG
Treats circulatory disorders.

CAPSICUM 100 MG
Improves circulation and aids digestion. An herbal assimilator.

* Niacin flushing may occur after use. Niacin supplementation can cause a red rash on the skin and a tingling sensation may be experienced as well. The body will correct this temporary condition.